Fondée par des étudiants de l'Université de Bretagne Sud en 2015, l'association The Hitch Hacker's Guide to The Galaxy, plus couramment appelée Hack2G2, œuvre à fournir un espace d'échanges et d'expérimentations pour ses adhérents afin de partager leurs connaissances, autour du numérique et bien d'autres sujets. La promotion du logiciel libre, la protection de la vie privée en ligne et l'hygiène numérique font partie des axes choisis par l'association pour développer ses activités.
Le samedi 19 mai 2018, l'association organise une nouvelle édition de son évènement public et ouvert à tous, la HitchHack.
Rediffusions
Programme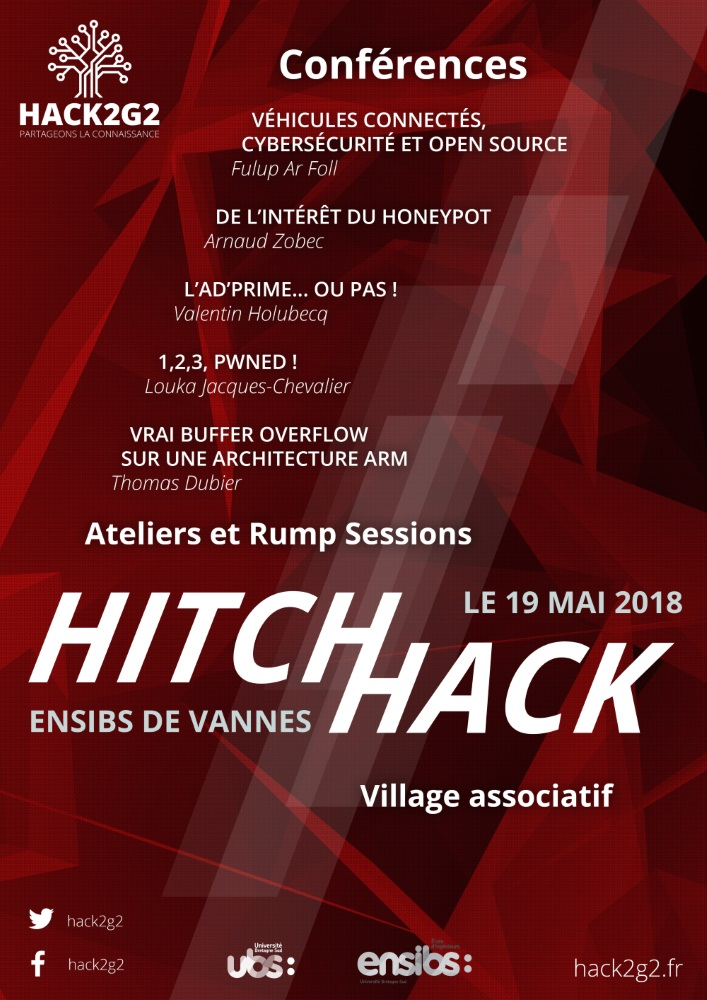 Restauration
Un choix de restauration rapide (pasta-box, etc.) sera offert sur place, une boulangerie et des commerces sont également à proximité.

Des fast-foods et autres moyens de restauration sont présents dans Vannes.
Lieu
L'évènement se déroulera comme l'an dernier dans les locaux de l'ENSIBS à Vannes.
Rue Yves Mainguy
56000 Vannes
En transports en commun : Arrêt de bus Marcellin (lignes 2, 6 et 10)
View Larger Map